WE WANT YOU TO BE ABLE TO MAKE A SMART PURCHASE.
Choosing the best carpet is about knowing the right combination of characteristics, aesthetics, performance, and budget to best meets the needs of your lifestyle. We want you to know all the important facts about carpet specifics and characteristics. The more you know, the better able you will be to make a smarter purchase decision.
UNDERSTANDING SEAMS AND BACKING WILL HELP YOU WITH YOUR DECISION.
Carpet is available in 12', 13' and 15' widths. Unless the room to be carpeted is narrower than these widths, the carpet will be seamed. With looped or low-profile patterned carpets, you may have visible seams. The degree of their visibility depends on texture, color, lighting, and furniture placement.
Be aware, as carpet bends over stairs, its backing may show depending on texture, color, and density. You should also know that looped carpet can snag, particularly at a seam or at a carpet transition.
DURABILITY IS A FUNCTION OF QUALITY.
Higher quality carpet will typically have greater pile density and tighter twist construction. This will result in better durability. Another consideration is that it is easier to replace or update a home decor with carpet compared to other hard surface products.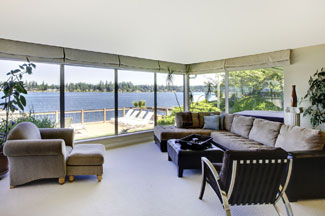 COLOR HAS A BIG IMPACT ON ANY ROOM.
Carpet covers a large area of any room, so it is important to keep some basic rules in mind when selecting your carpet. Once a carpet is installed it will often look lighter than the sample. Lighter color carpet will visually expand the size of the room, while darker carpet will create a more intimate feeling. Neutral colors are the best choice for frequent change of decorating scheme or if you are trying to incorporate a large amount of existing furniture. A neutral color is also a good idea if the home will be resold at any time.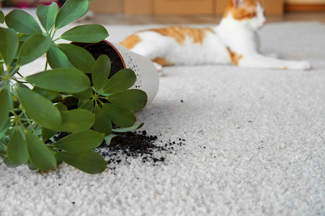 CHECK YOUR WARRANTY FOR STAIN PROTECTION.
Stain protection is an important consideration in any carpet purchase. Carpet products come with different stain protection levels and warranties that help guard against stains. As you increase the quality of carpet, stain protection also typically increases, as does manufacturers' warranty coverage.
UNDERSTAND WHAT IS BENEATH IT ALL.
One of the most important considerations in choosing the right carpet for your home has to do with carpet cushion. The cushion is a layer of material that lies between the carpet and the floor and can make the difference between a good feeling carpet and a great feeling carpet. It is the carpet cushion, not the carpet itself, that determines how a carpet feels beneath your feet. A quality cushion helps preserve the look and can even extend the life and comfort of a carpet. Carpet cushion is sold using quality specifications, not color. The color of the sample you see in the store may not be the same color as the cushion installed in your home.
KNOW THE ENTIRE COST OF OWNERSHIP.
The "cost per square foot" of your carpet is just one component of the entire project cost. To ensure there are no surprises, and the carpeting you select fits within your overall project budget, be sure to ask to have the total cost of the project calculated before you purchase. Other additional expenses that might incur are furniture removal, disposal of old floor covering, subfloor preparation, product delivery, and installation.
In addition to the total project cost, you should also inquire about the cost of annual cleanings to maintain the beauty and life of your new carpet. Be sure to consult the manufacturer's warranty and care guide for directions on how frequently the carpet should be cleaned and the cost to clean it.